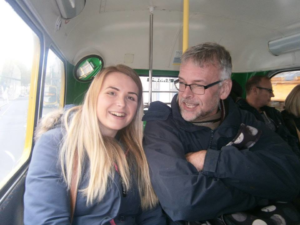 Ed Maxfield is the Norfolk County Councillor for Mundesley Division (Bacton, Paston, Mundesley, Trunch, Knapton, Swafield, Antingham, Gimingham, Trimingham, Northrepps, Overstrand and Sidestrand).
He is a school governor in Mundesley and Bacton and he is a Trustee of the Hamlet Centre charity in Norwich.
Ed first moved to Norfolk when he was 18 years old and he has lived in the county for most of his adult life. He has worked as a civil servant and for some of the world's leading business advisory firms – in the UK and abroad. He has also worked as a campaigner and communications professional in the world of politics, policy and the charity sector. He has studied at UEA and Birmingham universities and gained a Doctorate from the University of Sussex six years ago.
He has three children – two grown up and one who is 9 years old.
"The two biggest compliments I have ever received are that I am good at 'surprise management' and that I am a 'genuinely funny guy'. I can't comment on how funny I am but being good in a crisis and having a sense of humour seem to me like important skills if I am to represent people effectively at County Hall. I have the range of work experience and a love of North Norfolk that are vitally important too," says Ed.