Watson Watt Gardens play area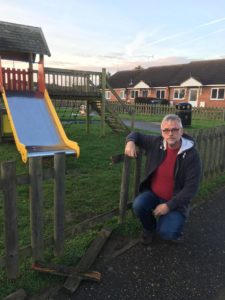 Residents have been working for a long time to get the play area at Watson Watt Gardens, Mundesley improved.
A couple of weeks ago I met with a member of the Parish Council to hear about the work she has been doing to get the District Council to take the issue seriously. She reported the broken fence to NNDC but it has still not been repaired. I also wrote to the NNDC officer asking for action to help campaigners get improvements to play equipments. Sadly I have still not had a reply. I will keep pressing to get action.