Action needed to cut traffic speeds in Trimingham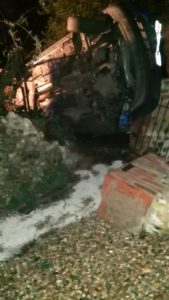 Minutes after I left Trimingham Parish Council last Monday there was a truly scary car crash in the village.
I was contacted by the resident whose home was hit by the car. I'm told that the driver and passenger were not seriously injured which is good news. The crash has wrecked the garden wall of the property and the car came to rest very close to the house itself.
At the meeting I had agreed to approach County Highways to ask for the 30mph limit at the western end of the village to be extended beyond the new village hall. A number of residents had asked for action to cut speeds at the eastern end of the village too and I have now contacted Highways to ask for advice on what can be done.