Coasthopper comes to Mundesley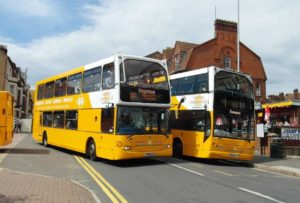 I was delighted to read a couple of weeks ago that the Coasthopper bus service will be extended along the coast through Mundesley division. Before the election last year I called for an 'Eastern Coasthopper' to give tourists and local residents alike an easy way to experience our fantastic coastline and access local shops and services.
Sanders Coaches is taking over the service and the firm is extending it beyond Cromer. Their recent announcement says this:
"Many of you may have seen the recent News release about the Coasthopper service being under risk and I can now confirm that not only will we be replacing the section between Cromer and Wells with a half hourly 7 day a week service numbered 4 from April 29th, we will be connecting it to our service 5 at Cromer which will extend the service all the way to North Walsham via Overstrand – Trimingham – Mundesley and Trunch. We will be scheduling in a connection with Lynx bus at Wells so passengers can extend as before all the way to Hunstanton and Kings Lynn on their Coastliner service 36. Remember concessionary pass holders that if you travel on both services 4 and 5 you must record your pass on each service as you would if you join Lynx or us at Wells."
I'll share details of the timetable when I have them.