Coasthopper comes to Mundesley (and Overstrand, Trimingham, Gimingham Swafield and North Walsham)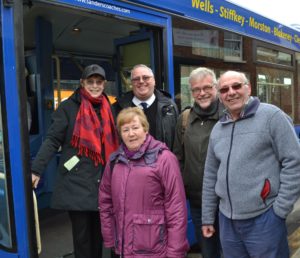 North Norfolk residents are celebrating the news that the Coasthopper bus service has been saved, and extended to serve more local communities.
The service been taken over by Sanders Coaches and it now runs from North Walsham and along the coast through Mundesley, Timingham and Overstrand to Cromer before heading to Wells-next-the-Sea.
I marked the start of the new service on Sunday 29th April by travelling the length of the route on the first run of the new service. Hardy travellers, were met by Charles Sanders, the owner of Sanders Coaches, and Wells councillors.
I was thrilled when I heard that the Coasthopper was extending east along the coast to Mundesley and down to North Walsham. It makes it easier for people to explore the area without needing a car.
"It was chilly, damp and early on a Sunday morning but the bus was busy with people getting out to meet friends or visit local attractions. I took a lot of reading with me but got very little done. I spent most of the journey chatting with people or just admiring the view – it's easy to see why the service is so popular!"
The Coasthopper timetable can be found on Sanders' website: https://www.sanderscoaches.com/times