Children's Centres in Norfolk
Earlier this month I moved a motion at a meeting of Norfolk County Council calling for a halt to the process of closing Children's Centres so the whole thing could be looked at again. You can read more about the plans here. Here is my speech to the council meeting:
It really gives me no pleasure to be moving this motion. Not because I support the administration's decision to cut £5 million from the children's centre services budget –I don't – but because the council is now missing the one chance it had to rescue something from that decision.
There's no doubt that the Council needs to put Children's Services at the front and centre of its thinking – countless observers, from Conservative Peer Lord Porter downwards – have stressed the financial pressures being faced by services for children around the country. But in the 18 months I have been on the council I get no sense that the administration is willing to do that – unwilling to say what matters most is making sure that the Children's Services team has the resources it needs to support Norfolk's children. If we stay stuck in a merry-go-round of budget cuts run in tandem with one off injections from transformation funds or social impact bonds or even just raiding schools balances to plug spending gaps we will always be storing up trouble for the future. We need the council's leadership to be brave enough to acknowledge that it has a responsibility to invest the money needed to deliver the service families in Norfolk deserve.
There's no denying, too, that part of the argument has to be with the Conservative government and that's another reason to pause this process. With Labour colleagues I have been offering for more than a year to join forces with the leadership to press for more cash for children's services in Norfolk. If austerity really is over it is time for the government to stump up the cash and all I can do is to repeat the offer to help in trying to secure that.
But the Conservatives will argue that we are where we are with funding. They have already decided to cut £5 million from the budget for Children's Centre Services. But even if we accept that, the way it has gone about this process misses one last chance to salvage something from that decision.
When we had our briefing as members of the committee I had to ask three times what it was we are trying to achieve with the redesigned service. It was quite clear from the answers I was given that the top consideration was delivering £5 million of spending cuts.
If the administration had started from a different place – asking the simple question what difference to we want to make to the lives of children in Norfolk – they could have designed an honest consultation and sought fresh ideas for how to deliver it.
Instead they have started from their own conclusions and worked backwards. They have already decided to close the children's centres and to take away the universal element that was the whole point of the Sure Start programme.
They want to target services using demographic data despite the risk they miss people who need help but sit outside the box their numbers suggest. They want an online offer that will probably amount to little more than trying to reinvent Google. And they want community groups to bail them out by delivering services for free.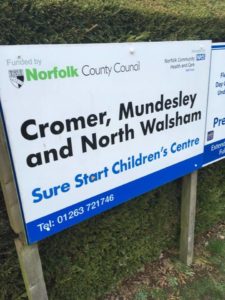 It's no wonder so many people are angry. It's no wonder people want proper scrutiny of this decision and I am moving this motion because those people deserve to have their voices heard.