Mundesley Town End Water Leak – Action Plea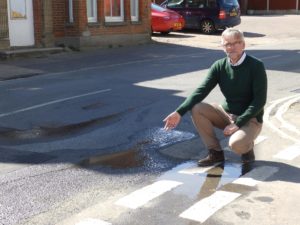 Ed Maxfield and local MP Norman Lamb continue to press for action to fix a water leak under the road at the junction of High Street, Cromer Road and Town End in Mundesley.
Months of pressure finally resulted in Anglian Water attempting to fix the leak – which had resulted in the road subsiding – but now the leak seems to have moved further along the road!
"This is causing real worry for local residents. We must get a proper solution as soon as possible," says Ed Maxfield.