Norfolk County Council management of verges
I was contacted by a Mundesley resident recently who asked what Norfolk County Council were taking account of this new approach to the management of roadside verges by Highways England.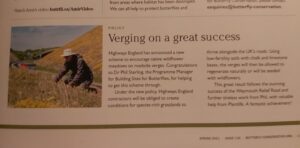 This is the reply I received from the Council:
Dear Cllr Maxfield
Thank you for your email below.
The simple answer is yes.  As you will have seen, from this summer we are changing the highway verge grasscutting arrangements to allow more wildflowers to grow, flower and self-seed on the C & U road network, which makes up the vast majority of the roads in Norfolk.  In addition, the urban highway verges will have a reduced frequency of cutting, which will deliver further environmental benefits.
The Norfolk Wildlife Trust also look after our 111 Roadside Nature Reserves, and proactively manage these to increase biodiversity.
We are also working with an increasing number of parishes who are keen to take on responsibility for some highway verges for both bulb planting and wildflower areas.
Hope that helps reassure you and your resident.
Kind regards
My Independent Councillor colleague Sandra Squire has also recently encouraged Highways England to get involved in their Million Trees project (if the Council leadership ever gets round to telling us how it will work and how to apply for the trees…)